Bathroom Remodels in Williamsburg, VA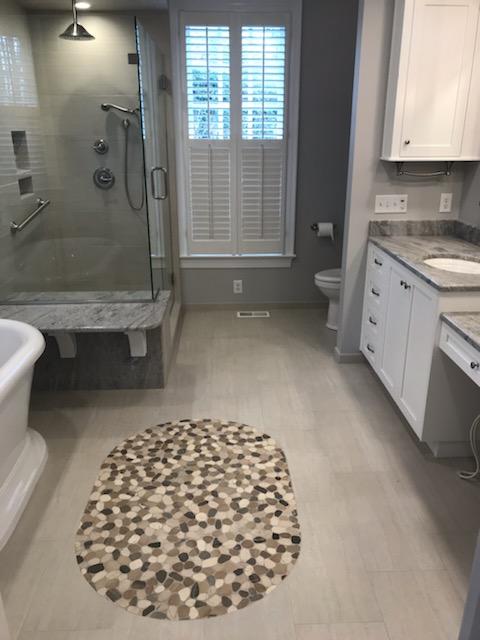 Bathrooms shouldn't be the forgotten rooms of a home. Instead, they should be rooms you feel comfortable and relaxed in! Let the remodeling contractors at Brantley and Ripley Construction, L.L.C. handle your bathroom renovation and introduce you to a brand-new concept of elegance. Our remodeling company designs bathrooms that are lavish and luxurious, creating spaces that homeowners will enjoy for as long as they own their Williamsburg, VA homes.
Concepts
Let our in-house design team introduce you to bathroom concepts that fit within your home and speak to your personal style. Before we begin a bathroom remodel, we consult at length with you about the features and styles that speak to your vision and align with your home. Let our team make recommendations about what's on-trend, what classic styles mesh with your Williamsburg, VA home and what options are within your budget.
Tubs, Showers and Vanities
Tubs, showers and vanities are the most important elements of a bathroom, and they're the ones we spend the most time planning and installing. Let us turn your drab bathroom into the pinnacle of luxury with new installations and give you access to high-end materials that transform your tub, shower and vanity into cornerstones of elegance in your bathroom.
Accents and Accoutrements
In addition to space planning and outlaying larger bathroom focal features, we put major emphasis on accents and accoutrements. Let our remodeling team assist you in picking out the ideal lighting, hardware, accents and other features that give your newly remodeled bathroom dynamic appeal. From simple sink hardware to frameless glass shower doors, your ideal bathroom is the culmination of its many accents.
Design the Ideal Bathroom with Our Remodeling Contractors
From freestanding tubs to frameless glass showers, well-lit vanities to tile oases, our remodeling company raises the bar for what a high-end bathroom concept should be. To begin planning your addition, bathroom, kitchen, or exterior renovation, contact us today at 757-253-0233. We'll introduce you to concepts that completely change your bathroom's dynamic.